Main Content

3 item(s) found.
1200 Intrepid
2016's Harry H. Edwards Industry Advancement Award winner proves that precast concrete enables the most innovative architectural designs while providing a highly energy-efficient and durable envelope. One of the most prominent features of the building is the white precast concrete façade, which dips dramatically away from the walkway along the eastern edge, then tips back out again, much like the buildings in a Dr. Seuss story. "One of the key design challenges was to create that curved façade from precast panels," says David Bosch, engineering team leader for High Concrete Group. The curved load-bearing design was achieved by assembling flat, traditional precast concrete panels to form a complex faceted geometry. An interlocking structural system was embedded within the panels to eliminate the need for traditional precast concrete spandrel panels. "The resulting façade creates an aesthetic versatility that is unique to the project," Bosch says.
View 1200 Intrepid
Valvoline Headquarters
Valvoline's new headquarters was designed to celebrate their heritage as a leader in racing while simultaneously capturing their focus on technology and product innovation. The decision to use precast concrete was made because for a project such as this, it is unparalleled when compared with different frameworks. The double-return panels give this building an alluring quality, highlighted its geometry, and was also financially attainable and able to be produced within an anticipated timeframe.
View Valvoline Headquarters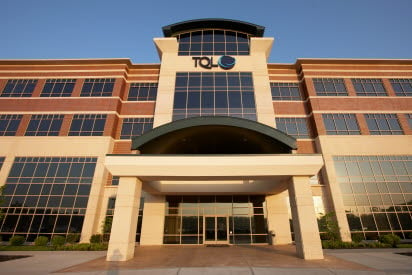 TQL Ivy Pointe Office
The TQL Ivy Pointe Office building is predominately thin brick-clad with light sandblasted buff-colored precast details framing the spandrels. The precast provides a face-sealed curtainwall that provides effective moisture control that typical rain screen construction cannot. The thin brick is finished with a rake joint. Additional precast details include a 2-1/2' projection below the parapet to lend a dramatic shadowline. The parapets themselves are at a height of 42" over the roofline to allow maintenance and other personnel to work on the roof without tying off.
The design made repeated use of a few stacked panel designs, allowing maximum economy. L-shaped thin bricks wrapped around window returns as would a full depth brick course. Formliner created a stone look formliner to the columns at the main entrance to add to the feeling of solidity. Reveals add drama and break up the mass to create a human scale.
View TQL Ivy Pointe Office