Main Content
Precast Concrete Finishes & Color Options

Colors
The finished appearance of concrete comes from the combination of materials used to make it. Concrete is composed of aggregates—sand and small stones of varying sizes, cement, and coloring agents (pigments) mixed with water. Many colors and texture options are possible by varying aggregate color, size, pigments, cement color, finishing processes, and depth of exposure.
Cement, pozzolans, and sand are blended to form a matrix that surrounds the stone. This matrix can be colored—either using colored sand or powdered pigments or both—to match or contrast with the stone.
The cement can be gray or white. Gray cement usually costs less but requires pigments to assure color consistency. White cement is used where light or highly consistent color is required. Sometimes waste-byproduct pozzolans—in concrete terms, a powdered material that improves the strength or other properties of the concrete—such as fly ash, silica fume, and slag are used to reduce the cement used in a mix.
The Precast/Prestressed Concrete Insitute offers a color and texture guide which most precast producers can coordinate a similar match to the mix designs shown. Keep in mind all of the materials are regionally source, without the exact same components, the mix design will vary.
Talk to a Sales Representative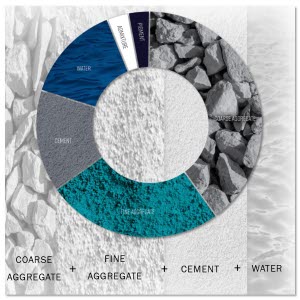 PIGMENTS & COLORS
Precast finishes are organized into eight broad color families. Color is achieved through a combination of white or gray cement, coloring agents or pigments, and fine or course aggregates.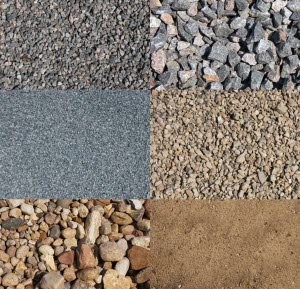 AGGREGATES
Many colors and texture options are possible by varying aggregate type, color, size, finishing process, and depth of exposure. Combining color and texture accentuates the natural beauty of aggregates.
Textures
Textures and exposures provide visually compelling surface and depth effects by varying the amount of stone used in the mix.
Form Finished

Typically, the stone is surrounded completely by the cement and sand matrix and is not visible. The coloration tends to be uneven or mottled. But using surface techniques, like etching, retardation, blasting, or polished finishes can produce stunning design effects as outlined below.

Acid Etched

Acid etching uses a high-pressure sprayed acidic water wash to create a uniform surface by removing some cement and sand matrix surrounding the stone. The exposed stone yields a textured finish with the color of both matrix and stone. Acid-etched finishes can be light, medium, or heavy to reveal only a little or a lot of stone. With a light acid wash, the matrix color will dominate; with a deep acid wash, the stone will dominate.

Retarded - Exposed Aggregate

Resembling acid-etched finishes, retarded finishes, accomplished by using a chemical retarder that keeps the surface cement matrix from hardening, can be used to expose the most aggregate, yielding finishes that can be mostly stone. Retarded finishes can be light, medium, heavy, or exposed aggregate.

Blasted

Sand-blasted or ecologically compatible steel shot-blasted finishes have a similar appearance to acid-etched finishes and are created by using high-pressure sprayed media to remove the cement and sand matrix. The abrasive media used to blast the matrix away from the stone can scratch the stone and may create a slightly duller appearance than acid etched or retarded finishes. Like acid-etched finishes, blasted finishes can be light, medium, or heavy.

Honed or Polished

Smooth, mechanically honed, or polished surfaces have a uniform appearance and can range from mostly matrix to mostly aggregate finishes. When aggregates are exposed, finishes can resemble natural granite or terrazzo.
Finish Levels
Different finishes like blasting, acid etch, or exposed aggregate are able to appear completely different while utilizing the exact same concrete mix. Just depends on the level of finish. Light, medium, heavy.
Acid Etched: Top, Exposed Agg: Middle, Sandblast: Bottom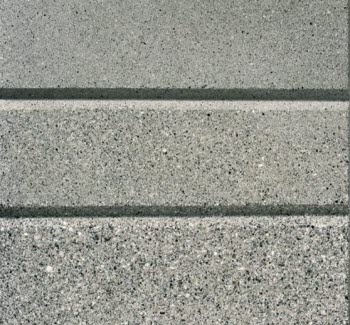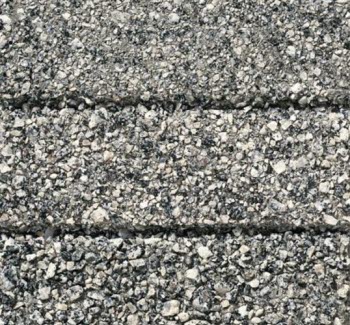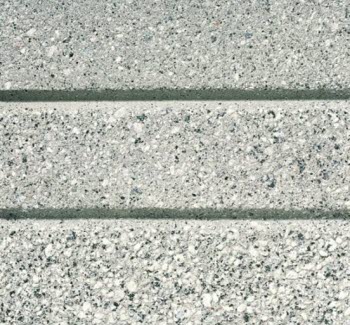 Cast Patterns

Liquid state precast concrete can assume almost any shape that can be designed into a mold. As a result, relief sculptures can be formed into the surfaces of architectural precast as shapes, motifs, and designs. Customized for each project, cast patterns create visual impact, reduce the building's mass, and can also convey a message. Color and texture/exposure of these patterns are typically integral to the precast.
Depending on the complexity of the pattern, High may build the sculptural details into the form. More complex images may require the use of a custom formliner made from any of a variety of materials such as steel, urethane, foam, plastic, and even steel to cast textures including ribs, stone, and brick as well as logos, words, or artwork into a panel. Formliners are most economical when designed for re-use, either in whole or in part.


Formliner Molds
Using urethane, plaster, rubber, grained wood, rope or other material as a liner in the casting form helps create finishes, reliefs, textures, shapes and logos.
Concrete Veneer Panels

Thin Brick Veneers


Glazed ceramic tile veneers and thin bricks—hard-faced tile-like sections of brick—have specially molded backs that lock into wet concrete. They are cast into concrete backers using formliners to hold them in place while the panel is cast on top of them. Formliners can provide either a crisp, machine-laid, or a more irregular, hand-laid appearance. A variety of joint details and an ever-expanding variety of brick sizes, colors, and textures are available. Tiles and thin bricks can either cover precast panels completely or be designed to work with exposed concrete areas. Thin brick is highly impervious compared to full- or half-bricks due to its molding process. Because an impervious precast panel backer replaces traditional pervious "mortar" joints, water will not get behind a thin-brick veneered panel and cause bricks to pop off.

Stone Veneers and Matching Finishes


Granite, limestone, and marble veneers (e.g., 1-1/2"–2" thick) can be drilled, fitted with stainless steel pins, and cast into rigid precast backers to provide large, fully or partially veneered panels. Stone-veneered precast panels can be an efficient way to clad high-rise buildings. For economy, natural stone veneers are often used on lower levels of buildings with matching custom-mixed all-precast panels on the upper levels. These veneers also eliminate the fireproofing required to protect steel-framed curtainwall assemblies. To ensure best quality, and to speed installation, sealing between stone joints can be done in the factory, leaving only the sealing between panels to be completed in the field.

Stone and ThinBrick
Both the stone and ThinBrick were applied to the precast panel at the plant. The Thinbrick was done in the mold and precast concrete was poured over the top. The stone was applied to the precast panel after pulled out of the mold.

TAKE YOUR PROJECT HIGHER
Have a question? Need assistance with how precast can meet your needs? That's what we are here for. Reach out to our team of precast concrete experts with any questions or details about your project and we will get back to you.
Contact Us