Main Content
Famous Concrete Structures Worldwide

Famous Concrete Structures Worldwide
Architectural Design Inspiration
With the 2022 National AIA Conference on Architecture taking place in Chicago this week, we at High Concrete are looking to provide architects and enthusiasts of the built environment with creative inspiration on concrete's design potential. Across history and different architectural styles, few building materials are as versatile or timeless as concrete. Along with being highly-resilient and long-lasting, concrete offers unique creative possibilities in architectural design. To highlight those possibilities, here are several noteworthy concrete structures around the world:
The Pantheon (Rome, Italy)
Constructed in the second century CE as a Roman temple, the Pantheon features the world's largest unreinforced concrete dome. Having survived centuries of natural disasters and conflicts, the Pantheon still stands today as a major engineering feat.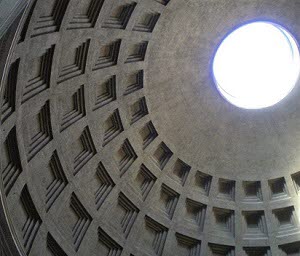 Largest unreinforced concrete dome in the world
Sydney Opera House (Sydney, Australia)
This modern expressionist structure is recognizable around the world as one of Australia's most famous buildings. Its signature "shell" roof structures are precast concrete panels supported by precast ribs. The Sydney Opera House was groundbreaking for the complex geometry seen in modern architecture. It also acts as a prime example of how precast concrete can be applied in sculptural designs.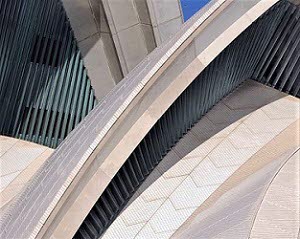 Detail of precast concrete ribs and panels
Long Museum (Shanghai, China)
Built on a decades-old wharf formerly used to transport coal, the Long Museum in Shanghai seamlessly integrates old and new structures. An original coal unloading bridge remains between two buildings that hold multiple exhibit spaces. The "vault-umbrella" structure and as-cast concrete finishes create continuity between the old industrial and modern designs.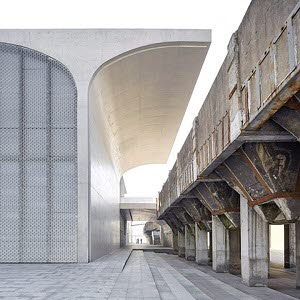 Old and new concrete structures
Bank of London and South America (Buenos Aires, Argentina)
The Buenos Aires Bank of London and South America building defies categorization and continues to evoke surprise and fascination. A structure with heavy, dynamic concrete pillars and a sleek glass facade, it acts as a clear contrast to the typical neoclassical buildings of the district. However, careful alignment of the concrete supports within the streetscape allows the bank to complement and blend with its surroundings.

Concrete design blends with a historical streetscape
Fallingwater (Mill Run, United States)
One of Frank Lloyd Wright's most recognizable designs, Fallingwater features reinforced concrete slabs that anchor a series of cantilevered terraces to natural rock formations. The house, built partially across a waterfall, remains a daring project of engineering and innovation today.

Unique design enabled by the strength of concrete
Saint-Jean de Montmartre (Paris, France)
The first example of reinforced concrete in church construction, this structure was ahead of its time given the materials used in building it. Combining metal wire, brick, and concrete allowed for a quicker and more economical option but was met with heavy criticism at the time. Once built, Saint-Jean de Montmartre was successful and set a design precedent that continued throughout the 20th century.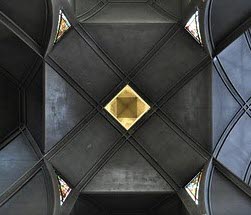 Detail of reinforced concrete vaulted ceiling
Concrete offers many unique structural and aesthetic benefits. As a construction material, it can be utilized in nearly every building type. Concrete also has the flexibility to achieve a variety of architectural styles. From neoclassical to modern, gothic to postmodern, concrete offers architectural inspiration lasting years and years.
Feeling inspired to use concrete in your next project? If you have an idea for your next project or want to learn more about precast concrete in design, contact one of our sales representatives today.
Contact Us