Main Content

2 item(s) found.
Christ Hospital
In 2012, the Christ Hospital Network in Cincinnati, Ohio, decided to add an orthopedic center of excellence to its already nationally renowned healthcare facility. The owners worked with an architect to design the seven-story, 381,000 ft2 LEED Silver-certified Joint & Spine Center, which linked it directly to the hospital's existing surgical and imaging areas.
As part of the broader master plan, the client and architect agreed that the design for the Joint & Spine Center needed to reflect the historical redbrick vernacular of the other campus buildings. It also had to meet strict budget restrictions, deliver a watertight building envelope, and meet the high-performance goals set for the new building. All of these requirements would be met with a precast concrete design.
View Christ Hospital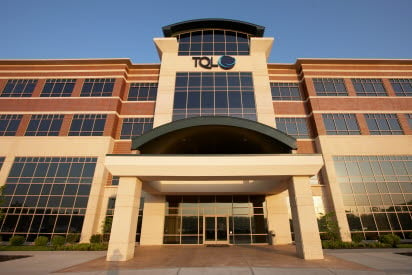 TQL Ivy Pointe Office
The TQL Ivy Pointe Office building is predominately thin brick-clad with light sandblasted buff-colored precast details framing the spandrels. The precast provides a face-sealed curtainwall that provides effective moisture control that typical rain screen construction cannot. The thin brick is finished with a rake joint. Additional precast details include a 2-1/2' projection below the parapet to lend a dramatic shadowline. The parapets themselves are at a height of 42" over the roofline to allow maintenance and other personnel to work on the roof without tying off.
The design made repeated use of a few stacked panel designs, allowing maximum economy. L-shaped thin bricks wrapped around window returns as would a full depth brick course. Formliner created a stone look formliner to the columns at the main entrance to add to the feeling of solidity. Reveals add drama and break up the mass to create a human scale.
View TQL Ivy Pointe Office